Krenar Komoni, the Successful Albanian in the USA – The Inspiring Story of His Life Krenar Komoni is one of the most successful Albanians in the United States. Earlier this week, he announced through his LinkedIN account that his company, Tive Inc., is promoted in the NASDAQ tower. But who is Krenar Komoni and how did he manage to succeed in the USA from Prishtina? Through his story made for the conference "Diaspora Speaks" we will navigate through his professional life.
NGO GERMIN had invited Krenar Komoni as one of the keynote speakers to reveal its history related to entrepreneurship at the conference "Diaspora Speaks 2020". In a virtual meeting, Komoni with modesty and simplicity explained how he managed to create a giant company like "Tive" from Prishtina in the USA.
During his presentation, Krenar unfolded his high school memories. He finished high school in "Xhevdet Doda", a school that in his memory comes as an almost completely destroyed object by the war but with extremely ambitious students. Komoni considers that it is exactly the period of high school that inspired him to take concrete steps for business. He took the first step to start a business when he was only 15 years old.
"The first start up was in 1998, where at that time I had the idea to start a company. 'Science Logic' was the first company where my friends and I made websites, 3D animations and various software."
A year later, the war in Kosovo began. His dream of creating a company seemed to fade away to be reborn with even greater power, immediately in the post-war Kosovo. Kosovo was liberated, and with it, the great dreams of Krenar. Krenar, only 16 years old, wanted to practice what he knew, so he found a job at one of the first televisions that were opened at the time in Kosovo.
"I started on KTV in 2000. There I learned a lot about start up, as I was one of the first employees at KTV. In September 2000, the lights of KTV were turned on and there I learned how to start a company."
Although still a teenager, Krenar was entrusted with almost the entire visual side of the television. He remembers with nostalgia all the time he spent as an employee of KTV where he closely learned not only about his profession, but above all, about entrepreneurship and business. He points out that he was the first editor to edit the first episode of "Stupca Diary" which was broadcast on KTV at the time.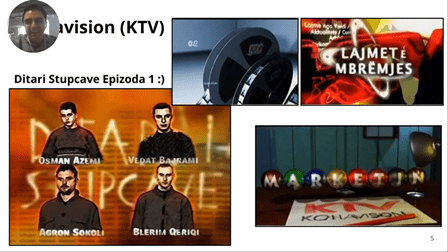 From a student of an almost completely ruined school like "Xhevdet Doda", Krenar, only 18 years old, continued his studies at a university that from his old school was fundamentally different in appearance.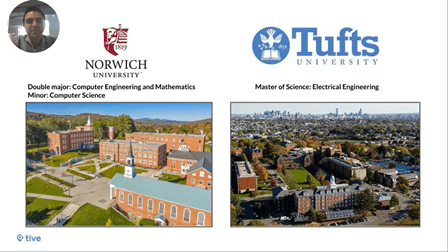 He completed his university studies at Norwich University in Mathematics and Engineering and his master's degree at Tufts University in Electronic Engineering and Computer Science. There he started working for companies as well.
"I started working at Bitwace designing telephone chips as a student of Norwich University. Then two MTI professors invited me to work for a company called Eta Devices and then for PhonixRF.
But the idea of starting a company like Tive came far away from the doors of the companies where he worked. Married to a woman from Korça he spent a lot of time with his father-in-law who owned many trucks.
He spent all his time in his office and at home, and as he spent time with him he noticed one thing. The father-in-law was worried all the time about the destination of the trucks.
"He was on the phone non-stop. Where are the trucks, did they come or not, where is the truck driver etc. He was always worried. And at that time, in the basement of my house, I started working on a GPS tracker and I put them in his trucks. My father-in-law was very happy and then a friend of his started to track on wares and trucks."
Krenar shows that it was from his father-in-law that he learned a lot about trucks and business in general. Now, from an idea that started in the basement of his house and mainly to 'stop the father-in-law 's grief' he started his own company.
"From there we started with Tive. Now we track on wares all over the world. Now by pressing the button we can eavesdrop exactly where the wares are, how much is the temperature, humidity etc. We have clients all over the world and we are growing fast."
As a speaker at the "Diaspora Speaks 2020" conference, Krenar had a message for all those people who are afraid of failure.
"When life gives you lemons, take those lemons and turn them into lemonade."
Krenar founded Tive Inc. in 2015 and now has millions of clients worldwide. You can follow his speech at the link below from minute 20:58.